About Kousyo
Greeting Vison and Mission Corporate Profile List of office Our businesses 商品カタログ
Greeting

Thank you for visiting our website.
Our company was founded in 1988. Since then, we have continually developed, produced and marketed new products using selected ingredients from all over the world.
We invest and innovate on product, quality control, production, logistic and human resource, in order to create and renovate the foodstuff to fulfill customers' needs i.e. tasty, high quality and value for money.
We, as Kousyo Co.Ltd., are thriving into other areas of business to maximize the capacity to meet the variety of demand from our loyal customers.
Once again we thank you very much for the continuous support.
Vison and Mission
Having meal is one of bthe most important parts of quality life and also enrich happiness to our mind.
Having this as our core principle, we continually provide high quality and wealthy food culture and to be the contributor of "food" to our customers.
The food related services as the core business, Kousyo supplies safe and high quality products.
Knowing the responsibly as a supplier of foodstuff, we aim to be the global company which contributes understanding and development of the society.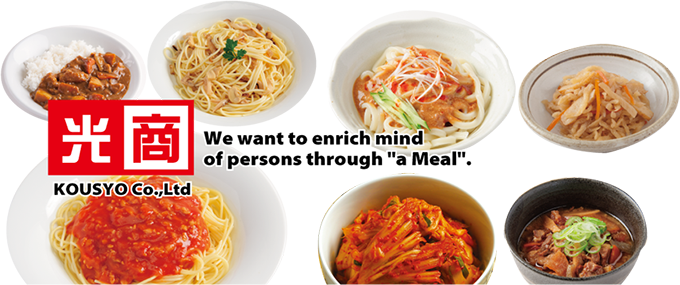 Corporate Profile
Trade Name
KOUSYO CO., LTD.
Established
March 17, 1988
Head Office
2-36-10 Iriya,Taito-ku,Tokyo 110-0013,Japan
TEL:+81-3-3871-5877 FAX:+81-3-3871-5897
Main Businesses
Food manufacturer, wholesale seller, Alcoholic wholeseller, Retailer
Representative
director: Joji Ogata
Capital
71 million yen
List of office
West Japan Representative Offiuce
15-37 Funahashiaoyama Bld.B103,Funahashicho,Tennoji-ku Osaka-shi,Osaka,543-0024,Japan
TEL:+81-6-4400-1660 FAX:+81-6-4305-7472
Gunma factory
3584-3, Hirobaba, Shinto-mura Kitagumma-gun, Gumma, 370-3504, Japan
TEL:+81-279-55-0562 FAX:+81-279-55-0573
Chiba factory
7-1, Misawa, Tomisato-shi, Chiba, 286-0225, Japan
TEL:+81-476-33-6647 FAX:+81-476-33-6648
Logistics Center
311-15,Tosaki,Kazo-shi,Saitama,347-0108,Japan
TEL:+81-480-38-6111 FAX:+81-480-38-6115
Refrigerated Products Delivery Center
Kousyo Delivery Center
Grocery Products Delivery Center
・Saitama Kanto Delivery Center
・Osaka Kansai Delivery Center
Alcoholic Beverage sales office
3-28-16, Shibusawa, Hadano-shi, Kanagawa, 259-1322, Japan
Our businesses
Having the foodstuff produced in Japan and China mainly as core products of our business line, we are thriving to expand sales network and product category both in and outside of Japan.
As a responsible company and food manufacturer, we will continually expand our quality products range in order to respond our customers' needs.
Product planning, development, manufacture and sales.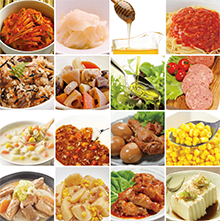 We are continually developing our private brand range of many different categories to meet our customers' requirements.
We are aiming to become food manufacturer who has product power to appeal to the market and meets the demands of our customers by planning, developing, manufacturing and sale of bland new categories of domestic made products such as pasta sauce and curry in addition to the conventional Chinese made products like kimuchi and umeboshi.
[Domestic made products] Pasta Sauce, Porridge, Nabe Soup, Curry etc.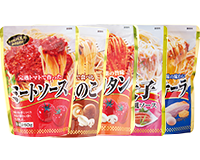 Having strong tie with domestic private factory, it is possible to achieve stable supply and meeting to the customer's demands by strict quality control, high level of production technique and swift stock control.
Moreover, it is possible to produce high quality products because the process of proposing, development and commercializing is done in domestically. Hence the each process can be checked in details.
[Chinese manufactured products] Kimuchi, Pickled Vegetable, Umeboshi, Honey, Seasoned Vegetable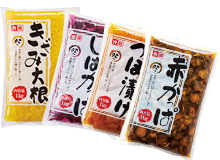 By establishing the Joint Stock Company at Shandong Province, Fujian Province, Zhejiang Province where fresh materials are produced, we are able to process and dispatch without loosing of its best freshness.
Also the strict stock control provides safety net for stock loss and helps to improve efficient production.